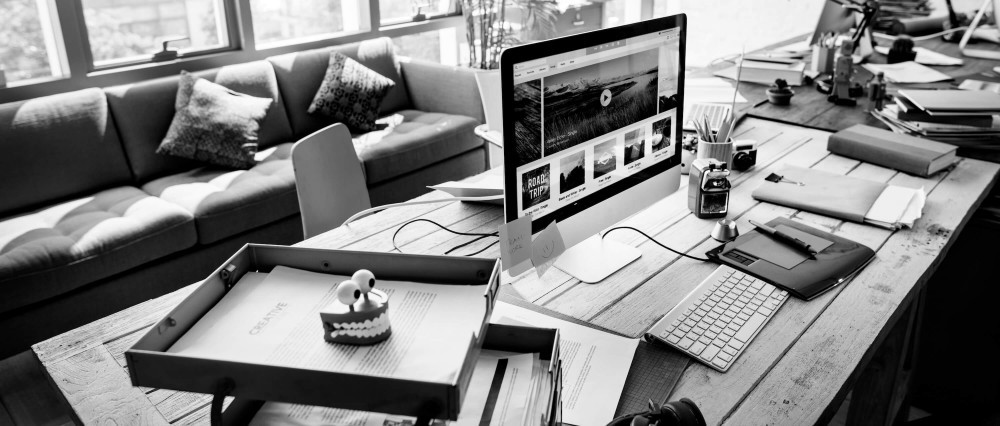 What is Wealthy Affiliate About and Is It a Scam or What?
Simply put, Wealthy Affiliate is an affiliate marketing training program, which also has the ability to host and build your WordPress website for you.
I have been in the affiliate marketing game now for a while now.
I've made many mistakes and I've definitely learnt what not to do. Along the way I've been asked lots of questions, and one of the most common ones is this: what is this Wealthy Affiliate company all about and is it a scam or what?
I've been with Wealthy Affiliate for almost 2 years to be exact, but I have long been in this making money online game.
I've been a writer ever since I was little, and started getting into online writing when I found AWAI, and I discovered copywriting and all it's courses. They even have a money making website course, although I never actually bought into it. I'd already spent 1000 of dollars on the multiple copywriting courses, and fiction writing classes.
And then I discovered Wealthy Affiliate, the most simple and well-structured and displayed training and support system for building your own money making website. And they helped you to succeed.
And the focus was not on selling. This is what I love most about blogging and niche website building. You set out to help people, and through doing that, they trust you enough to buy the products you recommend.
And so I fell in love. With a community and training platform, which I will continue using well into my retirement.
So, what follows below is my dear to the heart honest opinion about Wealthy Affiliate and what it really entails. I will be covering the following topics today:
What is Wealthy Affiliate About?
How Affiliate Marketing Works
How to Succeed With Wealthy Affiliate
Why You Might Think it's a Scam
So, Is it a Scam or What?
Do I Recommend It?
---
This page contains affiliate or referral links, which means I receive a small commission if you decide to click through and buy anything. This is at no extra cost to you, but helps me maintain this website ? If you want to know more, please read our Affiliate Disclosure.
---
What is Wealthy Affiliate About?
So, what is Wealthy Affiliate really all about?
To break it down, it is an affiliate marketing training platform or program, which also has the ability to host and build your WordPress website for you.
It's a program that has taken all the complicated steps out of building a site and making money out of it, and has created a system or platform if you will, where everything is simplified and EASY.
This is perfect for the beginner, the newbie to affiliate marketing, or those who want to learn how to make money online.
It's also good for the mid-level affiliate marketer. But it might not be so good if you already know everything about affiliate marketing. You'll find the training here maybe a little too simplistic.
But this is perfect for the everyday person who wants to build a site online and make money from it, for those who want a REAL way to make money online, and for those who LOVE WRITING and want to finally make a real income from it.
This last one is me. I'm that struggling writer who's never made a dime from writing, but is desperate to be a writer, and make a living from writing.
When I saw what WA was and what it had to offer. I was in.
Well, it actually took me a few months of thinking about it, but two days as a free member, I went Premium and bought the yearly membership (with my tax return money). This was the best decision I ever made, ever, in terms of my career and self-knowledge and esteem.
Since then, I write every day, crafting article and stories, building my businesses into something I want.
And it is hard work. But it's work that I love, and that I can do from home, with my daughter.
How it Works
Affiliate Marketing – How it works
Firstly, I'll quickly dive into Affiliate Marketing, what it is and how it works.
If you want more information, check out these recent articles:
In a nutshell, affiliate marketing is all about promoting or referring your readers to a product, where you receive a commission if they do.
Think of it like a car dealership. You are the salesperson. People come to you to buy a car, and you help them find the perfect one. Then when you sell the car, you receive a commission on that sale.
Affiliate Marketing is very similar, except the commissions are A LOT smaller lol. You have your "dealership" — your website, where you blog about a topic that is of interest to you. And you promote the products you love, and review the products you don't love — helping and informing your readers who share the same interest. You help them to buy the correct and best products for THEM.
In terms of the specifics — say you have a website about Toddlers and Outdoor Toys. You could write a review on the best toddler paddling pool for summer, and within that review, you link your readers to Amazon. Then, if they click the link and check out the product you've been talking about, and end up purchasing something, you will receive a commission. All because you placed an affiliate link within your article.
There's a lot more to it than this — but this is the gist of it.
How to Succeed With Wealthy Affiliate
What follows are my tips in order to succeed within WA. There is a common saying that more than 95% of affiliate marketers and sites fail. And the number one reason for this is — they give up. Too soon. I believe the key to affiliate marketing is persistence and growth — being able to learn and grow, and having the persistence and perseverance to stick it out.
Anyway, here are my keys to success in affiliate marketing, and in particular within the Wealthy Affiliate Platform:
1. Know Why You're Doing This
Know your Why. Why do you want to create a business online? Why do you Have to do this? What's the real reason you want to work from home?
Knowing the answers to these questions will help you when the motivation drops off. When you're feeling tired and like it's taking too long to see any progress. Focusing on your why will help see you through to your next wave of motivation and work power.
It does come in waves, as I've personally seen. So, don't worry, your motivation and drive will return, you just have to keep yourself going until it returns.
2. Know this isn't a Get Rich Quick Gig
This is a long, long-term investment in yourself and your business. It WILL take 6 months, or 1 year or even 2 years to make money. But you will learn an enormous amount in that time, and it will set you up for the years beyond.
3. Be prepared for HARD WORK.
This isn't easy. Why it is, in a way. The writing is a little tough. It's the pushing yourself to write new content every day which is hard work, and it gets even harder the more time passes and you haven't made a sale. But if you push it out, if you stay the distance, the course, you will get there eventually.
I can see how all this works, and I've seen the proof myself, but it is still a hard slog, even for me. I make about $400 a month, and it's only because I am not consistent with my writing articles. Be prepared to make a Real Effort and make this happen.
And I can show you, help you along the way, with all my insider tips — things I know and should have done myself.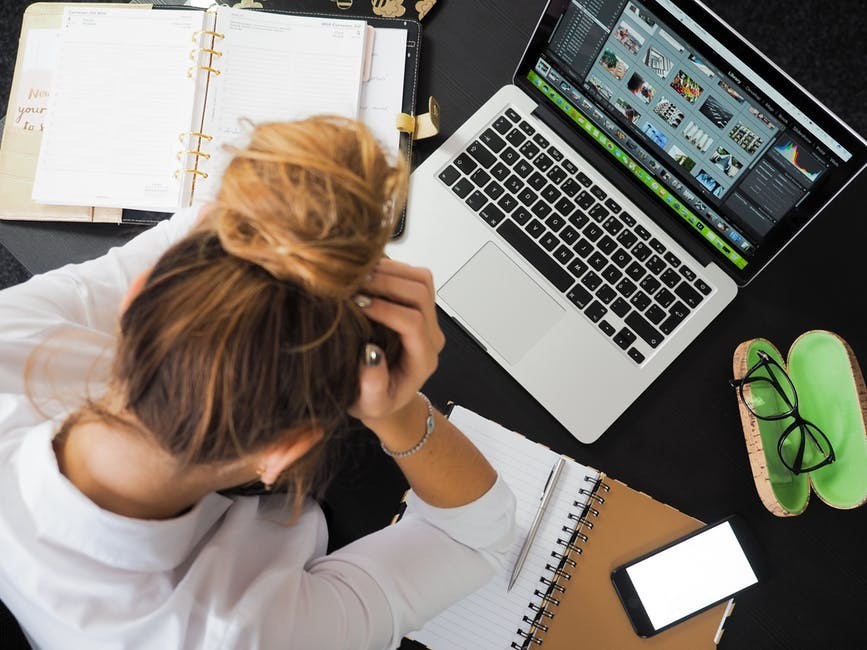 4. Find a passion (that can be monetized) and build a site around that.
This helps in your first time around. Perhaps picking the passion niche isn't the best niche, but it will teach you how to grow and build a website that works and gets traffic, and makes money.
I can help you in this area and point you to extra available training in the Wealthy Affiliate platform to help you discover your perfect money making niche.
5. Persist. Preserve. And Don't Give Up.
Give yourself two years to make this work. It's a small investment in yourself. If you grab the best deal, which is the Black Friday Deal, you can get the membership for $299 a year, that's less than a dollar a day. Plan for two years, and plan to write 2-3 articles a week on your site. You WILL see results.
Have you seen this image before? It so actually describes affiliate marketing, and the idea around not giving up…
Why You Might Think it's a Scam – When it's NOT
Some might call Wealthy Affiliate a scam, if they go into it thinking it's a get rich scheme. Wealthy Affiliate does not promise to help you to get rich overnight. They ask you for a yearly commitment, because that's what it will take to see any real traction on your website.
People might think this is a scam, because they have the wrong expectations.
Wealthy Affiliate teaches you how to build a real business, which will take 6 months to a year, to 2 years.
Some people may question all the extra costs that are involved after you sign up…
There are extra costs that are involved, but they're not that much…
All you really need extra is to purchase a domain name. And that is usually $13 a year from WA.
One thing that confuses a lot of new members is how you get 25 free domains and 25 hosted domains at WA for the Premium membership. Being new to the industry and their terminology, it's confusing that once you are in, you have to BUY a dot com domain name.
Everywhere on the internet you have to buy your own domain names, it's just the way it is — a domain name is like real estate. It's your little piece of the internet pie. Once you buy it and register it to you, it's yours. So once you buy a $13 a year domain name at Wealthy Affiliate, if you ever decide to leave, to get to take that domain name with you (after a bit of transferring).
WA nicely gives a Premium member 25 free subdomains they can use (A Starter member gets 2) and 25 HOSTED domains. This means you can have 25 dot com domains hosted at WA for free.
So can you see, how WA just isn't about the training, it's also a hosting platform, and more all in one.
Some people complain that it forces you to promote and sell WA.
Since Wealthy Affiliate also has an affiliate program, it does give you the option to promote it and make commissions off it.
But it doesn't force you to.
The core training is based on Learning to Build a Niche Affiliate Website and How to Monetize it. And it's all about finding your passion niche, and making that work for you.
They do give you a Bootcamp option, where you can learn how to build a Make Money Online niche type site where you can promote Wealthy Affiliate. But they only do this, because they have a product that they believe in and that works.
As you can see, I started in the creative writing niche and no I'm branching out and promoting affiliate marketing, blogging and Wealthy Affiliate. That's because I know that it works and have hesitation in recommending it to everyone that I know ho wants to learn how to build a business online.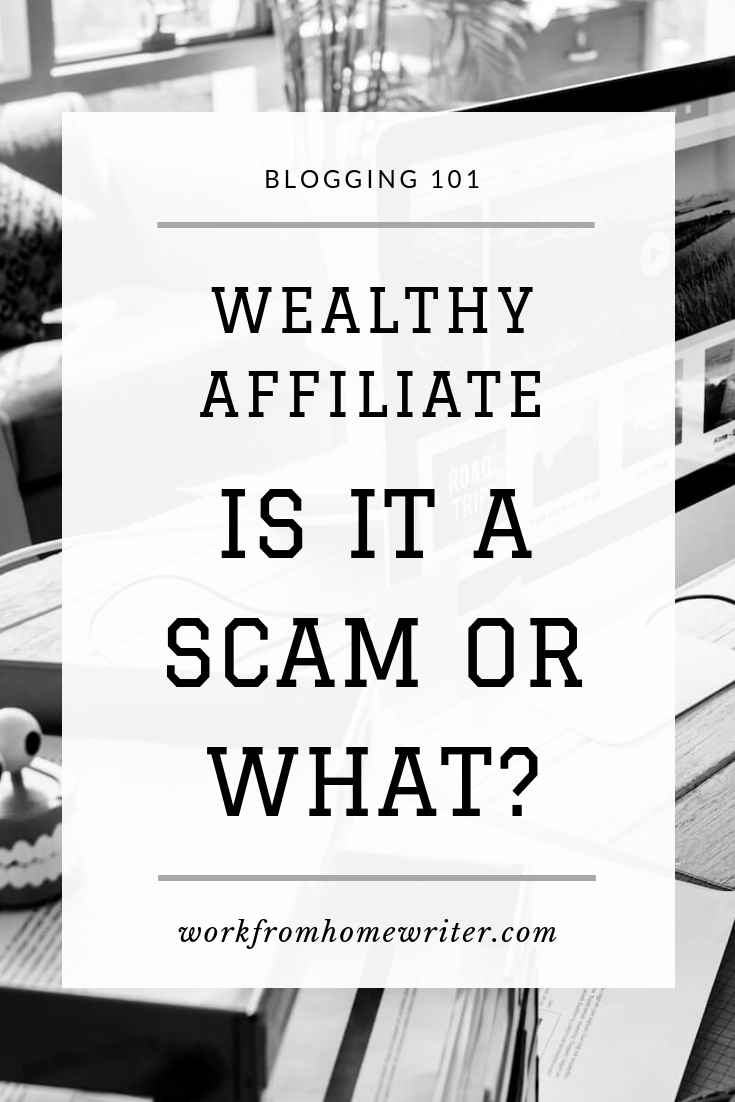 So, Is it a Scam or What?
Wealthy Affiliate teaches you the real way to make money with affiliate marketing, in a step by step, lesson by lesson course, that builds on itself. It doesn't promise a get-rich-quick scheme.
For these two reasons above, Wealthy Affiliate IS NOT a scam. It's a company dedicated to helping you build an online business, which they do, over and over again, as you can see within the WA blog forum.
This is a long-term business venture, where you have to put in The HARD work, to make something out of.
They compare it to a brick and mortar business. Most businesses start making money in the second year. This is exactly the same. You need to put in the work, before you see the returns.
The owners/creators are visible on a daily basis, answering questions in the live-chat, responding to queries in the blog posts and answering private messages.
What You get actually get out of Wealthy Affiliate – Why it's worth SO much more than the monthly or yearly fee:
1. Full Training
Firstly, Wealthy Affiliate gives you the tools to build your own online business. It does this through two online certification courses; the first focused on building a niche site, the second focused on building a make money online site (promoting WA). As well as these core courses, there is a wealth of training inside the platform within Classrooms in Trainings, Blogs and Questions.
Plus it's more than just affiliate marketing. Almost everything in terms of building an online business is covered inside. This includes Writing Content, Niche and Keyword Selection, WordPress, Social Media Marketing, Email Marketing, Local marketing, SEO, and PPC Marketing.
2. A Website Builder, Hosting, Domains
Within the platform, you can quickly and easily choose a domain name, buy it, and build your new website, all within the Wealthy Affiliate Platform. Sites hosted here have excellent support, protection and site speed and security.
3. A Keyword Research Tool – Jaaxy
You get access to a premium keyword research tool called Jaaxy (which was also created by he owners of WA). This is an excellent tool and is my keyword tool of choice. You get a lite version of Jaaxy with your Premium membership, which saves you money on a keyword tool. A keyword research tool is important for SEO, which helps you to rank in the search engines, which helps to generate you traffic.
4. A Content Creator tool – Site Content
Called site Content, this is a very handy tool and saves you having to create your articles anywhere else. You can draft your post/blog/article here, insert images from the inbuilt photo inserter and even publish to your site from here. From there all you need to do is pop into WD and make a few tweaks and your article is published.
5. Plus a whole lot more – Site Comments, Site Feedback, Site Support…
But you can read more about it on WA if you're interested.
As you can see, you do, as a member of Wealthy Affiliate get a lot out of one membership fee. I know some affiliate marketers who just use WA for hosting their sites it's that good!
Do I Recommend It? Yes!
In case you haven't realised, YES, I do recommend Wealthy Affiliate. There is no way that it is a scam, as it provides real tools and resources to help you build an online business for yourself. Remember, it takes time though. So know what you're getting yourself into and be prepared to work hard.
Don't forget, if you do choose to try out Wealthy Affiliate, if you join under one of my links, I'll be your personal MENTOR inside and can give you all my little tips and tricks that I've learnt along the way.
Plus you can just try it out for FREE with the Starter Membership. Try it out for free, all they need is your email address and you can see for yourself what it's all about. Even if you join and stay a Starter member forever, I'll always be YOUR MENTOR and will assist you in whatever way I can.
Still Want to Know More?