How to Make Money with Niche Affiliate Marketing: 7 Easy Steps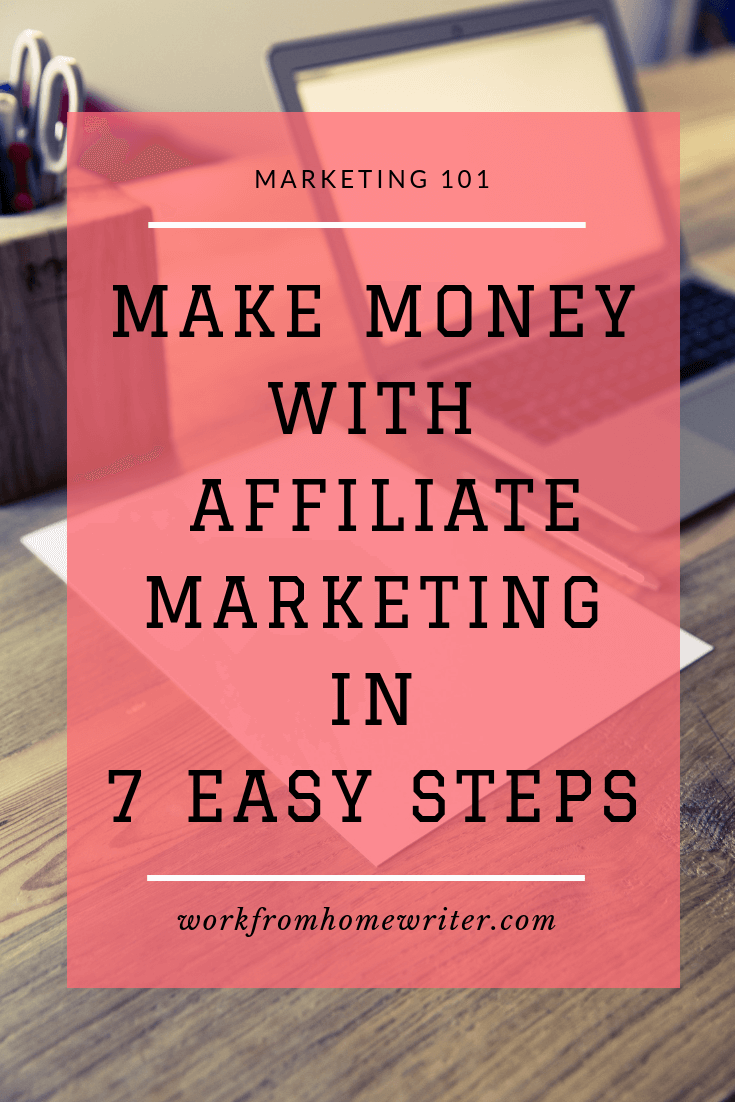 The first step to making money from affiliate marketing is getting a website or niche blog up and running. In the following steps, I'll quickly show you how to get one up and running pretty quickly, within a few days. Then, I'll get into how to make money with your website.
This page contains affiliate or referral links, which means I receive a small commission if you decide to click through and buy anything. This is at no extra cost to you, but helps me maintain this website ? If you want to know more, please read our Affiliate Disclosure.
It all starts with a website. Firstly, you need to pick a profitable niche which has a lot of potential. You then create an awesome website, with lots of helpful, useful content for your readers. You build trust, drive traffic to your site using best SEO practices within your site and within your articles, and then you're all set to start generating income from this content.
This involves adding in affiliate links to products you review, support, and promote.
Step 1. Determine Your Profitable Niche
Before you do anything else, you need to create an affiliate website where you can promote products and earn money through commissions on those products.
In order to create a successful, thriving website, you first have to choose a profitable niche. Here are my quick steps to finding a niche that will work for you and that you will continue to love and write great content for:
Step 1. Make a list of your passions, hobbies, interests, and careers that you've had.
Step 2. Which one interests you the most? The one that you could talk about for hours on end? Can you help others with this topic? This could be your niche…
Step 3. Take this niche, and break it down further if you can into a sub-niche. You don't want to target a niche, topic, or subject that is too wide and general. For then it would be way too competitive. What you want to do is find a sub-niche within your general niche that you can focus on. This will result in less traffic, but also less competition.
Tools: You can use Google Instant for this. Further down I'll go into further detail on how to do this.
Step 4. Make sure your niche falls in one of the general big market categories. But don't worry too much if it doesn't. It could still be a money maker for you, depending on what products and services are involved in it.
The following list is known as the big market categories:
Make Money Online
Health, Fitness, Losing Weight
Business, Money
Success, Self-Improvement
Relationships/Advice
Travel and Tourism
Politics, Current Events
Education
Fashion, Beauty
Leisure, Recreation and Hobbies
Sports, Gaming
Science, Nature
History
Arts, Music
Religion, Spirituality
Home Improvement, Lawn Care,
Food, Cooking
Gardening
Technology
Step 6. Double check there is enough interest in your potential niche. First by checking the search volume for the niche in a keyword research tool, and then checking Google Trends for your niche keyword.
Your general keyword should have a pretty high search volume per month (over 1000 is great).
Google Trends should show a growing trend in your niche. Typically look at the data over the 12 months. For the example below, the 12-month trend didn't look very promising, which is why I'm presenting the 2004-present trend. As you can see below, there has been a steady increase over time, with continuing peaks and valleys over time. There has been a flattening out in the trend in the last few years, but I still see potential in this niche due to it being part of the health and fitness industry; an ever-growing niche, with millions of customers and new products continually being created and bought.
Step 7. Take a look at your sub-niche and determine what audience you will be writing for. Ask yourself,"I want to help people that/who…"
For example, perhaps you love working out, and you broke your niche down to Working Out At Home. Now, whom could you write this website for? It's best to choose something close to home. Are you a busy mom? Over 50? A young man in peak fitness form?
Decide on one audience and create your site for them. When you start your website from scratch, you are starting more specific, but don't forget that you can expand your site, once it has a readership and some authority.
Remember, Amazon started out in just books?
Since I am a new mom and very time-stretched, for this example my audience will be Busy Moms. So effectively, my niche becomes Working Out at Home for busy moms, and the variants on this term, such as home workouts for busy mums, training for busy moms, etc.
Step 8. Make sure your audience is buying products in your niche. Determine which products could be potentially promoted by your website. The best way to do this is by checking through a number of avenues.
Amazon. Check that there is a range of products available in your niche
Yourself. Have you, yourself bought something in this niche? I for one, have bought many a home workout designed for speed. Since becoming a mum I have also bought a number of post-natal home workouts and fast workouts.
Do a Google search for your niche. Do ads pop up for related products? This is a good sign, if they do. Our example, some exercise gear pops up in the google ads space.
Are there affiliate programs for this niche? This is another easy check to do. Type your niche keyword into Google with the phrase *affiliate program*, and see what results it produces. If a number of associated affiliate programs pop, then that's a good sign that people are buying in this niche and sellers are making money from it.
Tools:
Brainstorming methods, identifying passions
Google and Google Instant
Amazon Categories
Affiliate Program Research in your niche (in Google)
Google Trends – make sure your niche is trending upwards
Now that you know your niche has some potential to make profits, let's move on to the next step; making sure you can create enough content around it…to see you through a number of months to a number of years. Remember; this is a long-term business, and you could be writing for this site for many years to come.
Step 2. Determine 50+ Keywords and Your Domain Name
One thing I've seen suggested again and again is making sure you have enough content to write about, and to keep you interested for the next 6-12 months, while you're growing your website.
It does take about 6 months before you really see a traffic increase from the search engines. This is known as the Google sandbox period, where Google is just waiting you out, making sure you're sticking around and are providing quality and regular content.
Once you hit this 6-month mark, you should see your rankings (in the search engines) and your traffic rise.
You can still get traffic before this – through your email list and social media.
Either way, you still want to have awesome content being posted regularly to your site.
Let's Get To It…
First, make sure you can find 50 relevant keywords that you can write around for your niche. From these 50 keywords, you would create 50 Article/Blog Titles.
Keyword research is another whole thing in itself, but to get you started, here are 4 tools that you can use:
Google Instant
Jaaxy Lite (free through the WA Premium Membership)
Here is a link to an awesome list of 10 free keyword tools you can use from Neil Patel.
Google Trends/Instagram/ etc. to find new and trending terms and products.
Keyword Research is another whole blog post in itself, but it in a nutshell:
These tools analyse search data and give you somewhat accurate results on any given keyword you plug in. The results they give you include:
the monthly search volume for that keyword (ie how popular it is)
the QSR – or competition for that keyword.
These are the main two columns you want to look at when getting started. Other information is included and includes PPC data, but that can come later.
This is how I recommend you go about your initial keyword research with the above tools; take a look at this training video from Wealthy Affiliate on the Alphabet Soup Technique: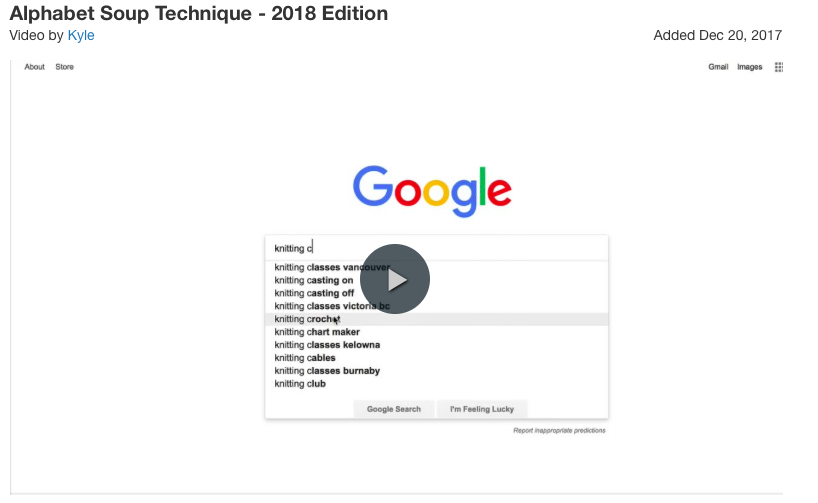 Step 1 – Brainstorm 
Brainstorm how you want your site to look. What do the menu categories look like? Think about other websites in your niche, or related ones. How do they break things up? With that in mind…
Step 2 – Keyword Research
Start with Google Instant.
(And Remember – Your Goal is to Help your readers – not sell to them. You want to connect with them, so keep this in mind throughout all your keyword research.)
Google Instant is the name used for the automated drop down box that appears when you start typing in a keyword into Google. The instant results show you what people are currently searching for and whats popular. This is an excellent tool to start your research with.
Type in your broad niche keyword. Hopefully, you'll see a number of drop-down suggestions – just like when you were looking for your sub-niche. All these are potential keywords you could use. Start a list – an Excel sheet or Google sheet is handy.
Use the Alphabet Soup Technique. After your keyword add the letter a, then b, then c. You'll see the Google Instant results change with each new letter added. All these are keywords you can possibly use – add them to your spreadsheet.
You can also do the Alphabet Soup Technique at the beginning of the phrase and in between words:
If you do this, even for just the more general phrase, you can come up with a big list of potential keywords.
Then you can narrow it down to your final keyword phrase/niche and see what comes up:
As you can see, the potential keywords are endless using this technique.
Try changing around the working and different phrases to get more results, i.e., home workouts for moms, home exercise for moms, working out at home…, home training for moms… etc , etc. Pretty easy huh? I like this part, this is the fun part:)
Another interesting free tool to make use of is Google Trends. You can easily pop in your general niche term, and more specific keywords into the search function here and view the keyword related data.
Of particular note is the "Rising" Related Queries (or Keywords) data. For example, for the keyword "Home Workouts":
In this screenshot, you can see a number of keywords which Google Trends has picked up that are rising in trend:
This just shows the first 5, of 25, and not all of them will be applicable, but this indicates the trending keywords.
At Home Workouts For Women is a Breakout Keyword. This indicates incredible rising popularity of this keyword and would make me look twice at it, even if it had a rather competitive QSR. As a matter of fact, its QSR in Jaxxy is 58.
In my opinion, this is a pretty good keyword to build an article around. Here are the actual stats for you:
Tools:
Google Instant and the Alphabet Soup Technique
Google Trends/Instragram/ etc. to find new and trending terms and products.
Step 3 – Using a Keyword Research Tool
Take your spreadsheet list and start plugging in your new keywords into a keyword tool.
I like to use Jaaxy, as it comes free with Wealthy Affiliate, so all my examples and screenshots will be from there. But there are a number of keyword tools around, including the list of free ones from Neil above.
Try It Out Now:
Taking an earlier screenshot as an example and the keyword workouts for moms with toddlers, I plug it into Jaaxy and the results are:
Our keyword looks ok for a new website, with a monthly search volume of 40, and QSR of 9. That's 9 competing pages for that exact keyword. Below you'll see other suggested related keywords but in this case they aren't that applicable to our niche. Workouts For Moms is there, but it has a higher QSR, which isn't preferred for a starting or even more established website.
The general rule of thumb is (for a new site):
Search Volume = something (the higher the better obviously) and QSR <100 (that's less than 100) (and obviously, the lower the better).
For an older site:
Search Volume = something/anything and QSR<200.
Never go about 300 QSR.

By the end of this step, you should have 50+ keywords that are applicable to your niche, which you can later convert to titles for your blog posts.
---
---
Step 4 – Domain Name
At any point in this keyword research process, think about your domain name, and decide on what you want. Things to think about when deciding on your domain name:
You could use a keyword in it, but you don't have to
A brandable domain name might be better than a keyword domain name – think about what sort of business you're building. For further information, check out this post How To Choose a Domain Name.
Have something short, which rolls off the tongue easily
Find something which is available with a .com. If you want the most authority, always choose a .com.
Tools:
Google Instant
Jaaxy – or equivalent keyword research tool
A domain name provider. I use Wealthy Affiliate. But there a number of places you can buy domain names from.
Step 3. Build Your Niche Website
To build your website would take another blog post of material, so that's what I've done. Click here to read in full how to build your niche (or any) website. This was written directly towards freelancer writers, but you can see how it's applicable to starting any site.
But in Summary, these are the 5 steps you'll likely take to build your site:
Choose a Domain Name
Decide on your Hosting (including email hosting)
Decide on your Website Platform
Build Your Site and Choose a Relevant Theme to your Niche
Complete the necessary website pages (Affiliate Disclosure, Privacy Policy, and About Me Page)
---
I Recommend Wealthy Affiliate for your hosting, domain purchases, training, and building your site. Read My In-Depth Review Here.
---
---
The next step involves creating your categories and your menu and the associated pages.
Step 4. Create Your Menu and Menu Pages
Since you've already thought about your Menu, your categories and how you want your site to look, this will be easy. Well, easy enough.
Alter your menu to how you want your site to look. Perhaps, for our example, you decide to have a menu across the top with the following categories: Fast Fitness, BodyWeight Workouts, Personal Gym Workouts, PostNatal Workouts, Resources, and Nutrition Bonus. Or something like that.
You'll notice that all these categories are actually keywords in themselves as well.
You'll also need to include the essential pages, if you haven't already done so from the previous step. This includes the Privacy Policy, Affiliate Disclosure and About Me or Us Page.
Tools:
Remember to use other similar websites as your source of inspiration and pick what you like from the various sites. Try to build something new, fresh and original.
Step 5. Build Your Content Plan
You should already have your 50 keywords/post titles to start you off with, ideally focused into the different menu categories for your site. Don't forget – your aim for each post is to create awesome, helpful information for your readers.
1. If you haven't broken down your keywords/titles into menu categories, do that now.
You want to make sure you'll have enough posts under each menu topic moving forward. If one menu category is lacking; spend some time finding keywords that fill that space.
2. If you haven't converted your keywords to Blog Port Titles, do that Now.
3. Decide on how regularly you are going to be posting to your site, keeping in mind your available time, and how quickly you want your site to progress. I recommend devoting as much time as possible to it, and to get the best results, plan to post at least 3 times a week. This is 12 posts a month, which is a big commitment, but is possible, even working around a full-time day job.
If you do plan on 12 posts month, your content plan could be; publishing on Monday, Wednesday, and Friday.
Step 6. Creating Awesome Content
Now it's time to start creating your awesome, helpful content. Here is a trick I've learnt from Wealthy Affiliate:
At the start of each month, plan out your 12 posts for the month, and do the following tasks in order for all of the 12 posts.
Convert your keywords to Titles  (for all 12 posts – or whatever your number of monthly posts is)
Outline your post, research and create headings (for all 12 posts – or whatever your number of monthly posts is)
Then dedicate at least 30 minutes uninterrupted minutes to writing your post, following the outline and headings you've already laid out.
This recommendation,  to complete each step for all 12 posts, and this really helps to speed up creating my content. First, you focus on keyword research, then on creating titles, then outlining and article research and then writing.
Bonus Tips:
Following are the typical articles and types of blog posts you should include on your website:
Use Best of Posts with Year Technique
Follow this up with individual review posts for each product you've mentioned in your Best-Of post
Use Top 10/15/20 Posts
How-To Posts
Lots and Lots of Reviews
The ratio of Informational Posts to Review Posts is debatable, but considering that you do not want your site to be littered with affiliate links on every page (Goole dos NOT like this), then you'll probably want at least half of your posts to be informative and how-to posts, where you help your readers solve their problems.
Step 7. Adding Affiliate Links
At some point, you'll want to start adding your affiliate links to your review pages. You could do this right from the start, or you could build a little trust with Google and get some decent rankings before you start adding in affiliate links.
I would at the very minimum, build out your first website for a least a month; meaning get a good lot of content on there, before applying to affiliate programs and inserting affiliate links.
Adding the affiliate links is the final step before making any money, but they mean nothing without doing all the previous hard work, and building up a website which is helpful, informative to your readers. You have to build trust with your audience before you can expect them to buy anything from you.
So go forth – and start building your site 🙂
I'll follow this post up shortly, with an article on adding affiliate links to your website and how to tackle the various affiliate programs out there. But as it is, I think you have enough to go on with for now:)
I hope you've enjoyed this post. It's ended up being way longer than I expected, but the process is still pretty simple. Just follow the steps outlined and you'll be fine. Easy huh?
Or if you want it even easier then check out Wealthy Affiliate. This is THE place for beginner affiliate marketers.
---
---
Or check out my Wealthy Affiliate Review Here
If you have any questions at all, about niche selection, or keyword research, domain names, or just anything, please don't hesitate to leave a comment below and I'll get back to you as soon as possible.
Happy Building and Writing,
Erica
Sources for this article include:
Wealthy Affiliate – Best Training for Newbies and Intermediate Affiliate Marketers