Wealthy Affiliate Review 2018: A Freelance Writer's Secret Weapon
Do you want to earn a living from writing? Creating awesome content for your own website is one of the best ways to become a successful and profitable writer online in 2018. And one of the best ways to achieve this is through Wealthy Affiliate.
This is the reason I have written this review for you. If you truly want to be a 'writer' and are struggling to find your way:
Think about Content Writing, for your own money-making website, on a topic you enjoy writing about.
Don't Work For Others, Work For Yourself. And build your own business, your own empire.
Wealthy Affiliate is a fantastic tool to utilize on your way to success and is ideal for those new to the world of online content and marketing.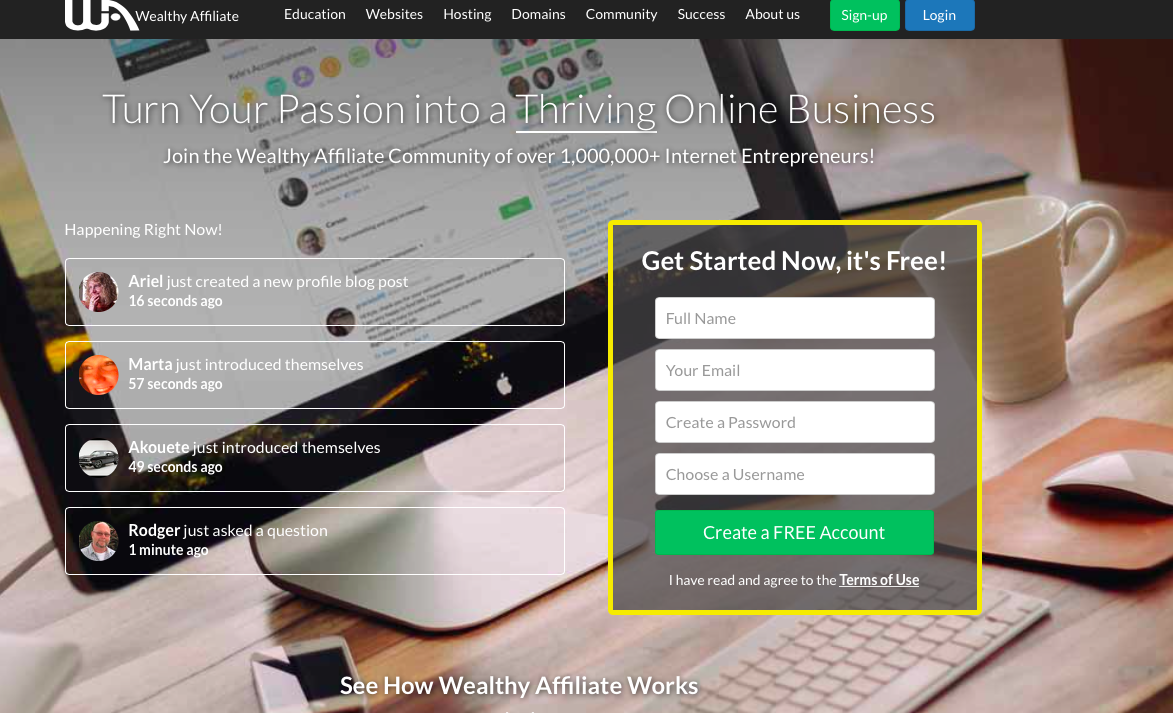 [A little word of caution/disclaimer – I am a creative writer at heart, and I found Wealthy Affiliate by chance while looking for ways to earn money online while I was pregnant and going to be staying at home for the foreseeable future.
I believed and still do, that I could help support my family, and support my writing by creating a fun website and get to write on it each week.
What I didn't expect, was to be swept away by the potential and scope of online entrepreneurship and that of affiliate marketing. Nowadays, writing content for my websites has taken a definite front seat, while I'm struggling to keep up with my creative writing commitments. This isn't a bad thing. I guess, I'm just a little caught up in the money side, and the potential earnings after a couple of hard worked years on my websites. I am still writing a little, (short stories mainly), but I've become fully engrossed in this world of internet marketing.]
Be forewarned… content writing, niche website creation and even Wealthy Affiliate is almost an addiction… But a good one, I like to say.
And if you have the right tools, guidance, and support:
You Will Achieve Any Success You Dream Of.
This Is Where Wealthy Affiliate Comes In
Wealthy Affiliate – Overview and Rankings
---
Name: Wealthy Affiliate
Owners: Kyle and Carson
Website URL: www.wealthyaffiliate.com
Training: YES
Support: YES
Website Builder: YES
WordPress Hosting: YES
Research Tools: YES
Success Stories: YES
Price: Starter Member (free) Premium Membership ($49/month or $359/year)
WorkFromHomeWriter Rating: 9/10
Why I Recommend Building Your Own Site
---
You actually get your writing out there.
You publish your own content writing, articles, blogs, and reviews on a site (or asset) you own.
You are your own boss.
You get to write about a topic you love, or least have an interest in.
You have the opportunity to build your website into a full-time business, with a "full-time income".
Check back soon for a more detailed post on why I recommend website creation and content writing to be one of the best financial methods for the freelance writer.
Want to know how easy it is to build your own website? Check out this training video from Wealthy Affiliate, and see how you can create a website in under 30 seconds: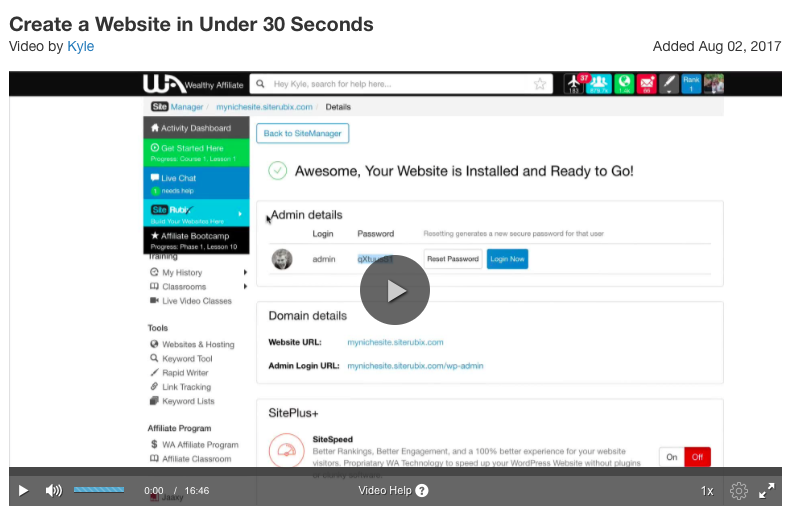 Why Wealthy Affiliate?
---
Firstly, in short, Wealthy Affiliate is an all-in-one-stop-shop, which encompasses website hosting, a full training platform, and support service all in one.
While Wealthy Affiliate is primarily focused on affiliate marketing; it does cover the range of monetizing techniques available to any online business and website. This fact alone makes it a great, underutilized resource for any online business and especially the freelance or creative writer.
Affiliate marketing, when done correctly can be a profitable first step in your online business. It is the first stage in monetizing a website, be it niche or authority website.
And this is why I recommend Wealthy Affiliate.
Wealthy Affiliate is designed for those new to internet marketing and online entrepreneurship. It provides complete, in-depth training; from starting your website from scratch, through to all the avenues available to build out and monetize your website (including Social Media Marketing, PCP campaigns.)
If you really want to finally write for a living, check out Wealthy Affiliate, and see for yourself and what it can do for you. You can even take a free (indefinite) test-drive with the Starter Membership, which gives you the first Stage in the training.
Why Wealthy Affiliate is Great for Writers
---
As a writer, you have the advantage of being a learned (and hopefully) quicker writer.
Writing for online content is slightly different to other writing styles, but it's super easy to pick up, and then it's another skill you can add to your resume; including online content writing, blog writing, and article writing.
Provides further useful skills for your resume and expands your selling points: Now you can write SEO articles, blog posts,  and reviews. (You can even learn all this from the ongoing free membership offered by Wealthy Affiliate).

Side note: I was looking at outsourcing a few articles/posts, and was searching through Fiver, to see what was available, and the scope is huge. If you can master this skill, and write excellent content, this alone, would be a great avenue to explore.
BUT, if you read further, you will see why creating your own website and writing content for yourself will end up becoming your most profitable income stream (eventually….this is a long-term business plan we're talking about.)
This is what you get in the free Starter Membership: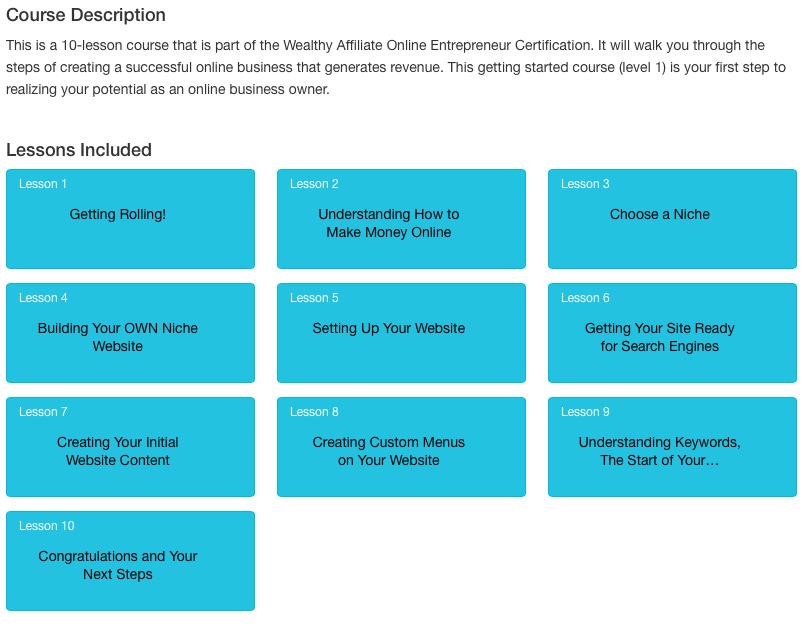 Benefits of the Wealthy Affiliate Platform
---
Full and complete training to teach you to build websites from scratch on any topic.
Full and complete training on how to write for the web: writing general content, review posts, How-To articles, and blog posts.
Full Hosting Platform

Comparable hosting alone is $250 per month

Keyword Tools, there are two tools within WA; the WA Keyword Research Tool and The integrated Jaaxy Keyword Tool is the only tool used now.
Site Content Writing Platform – tool to quickly write your posts and publish them on your WordPress website.

The Site Content function even has an editor built in (with spelling and grammatical checks), and an Image Insert function (which provides instant access to free stock images, ready to use.), and templates to get you started, including all website essentials; Provicany Policy, Affiliate Disclosure, and an About Me Page. (If you want to see these in action, just click on the appropriate links above under the About Us tab – I have used these templates to create this website.)

Two full Step by Step Training Courses available:

The Online Entrepreneur Certification Course (designed for any niche topic) and provides instruction in niche related websites
The Affiliate Bootcamp Course, which provides training specific to the make money online niche, and teaches you how to promote Wealthy Affiliate (which is what I am doing right here).
With these two courses, they provide you with all the information to get you started in your online writing career.

Domain Purchasing
A Free Starter Membership option, which allows you to trial Wealthy Affiliate forever. This provides you with:

2 free websites (siterubix.coms) hosted for free at Wealthy Affiliate
Access to the first stage (10 lessons) in each of the training programs: Certification and Affiliate Bootcamp.
You also get to experience the premium membership in your first 7 days.

Support (Live Chat, SiteSupport, Q & A)
Personal Mentoring
Community
Weekly Live Classes (and 100's of hours of replays)
Ambassadorship Program
The Affiliate Program
Networking
Website Performance Tools (SiteRubix)
Website Engagement Platform (SiteComments)
Unlimited Content with the Premium Membership, which is continually being updated.
No Hidden Costs. Although, it is a little confusing to start. If you want to use a dot com, these DO cost you additionally, but only come in at approximately $14 per year.
Wealthy Affiliate really is the best internet marketing product for those brand new to the internet marketing sphere.
Get Started Now – Try it out for free with a 100% free account – no payment required. In the free course, you'll learn how to build a site, how to start creating high-quality content, and how to start optimizing your content to rank in Google and other search engines.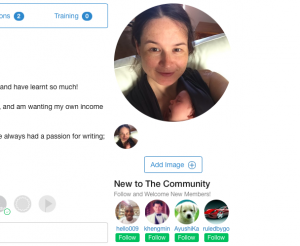 Check it out for yourself, and see how writing for your own website can lead you to financial success. Hope to see you in there! My username is EricaCrystal, and you'll have direct access to me plus additional support.
If you have questions or comments, please leave them below and I'll respond as soon as I can.
Happy Writing!
Erica