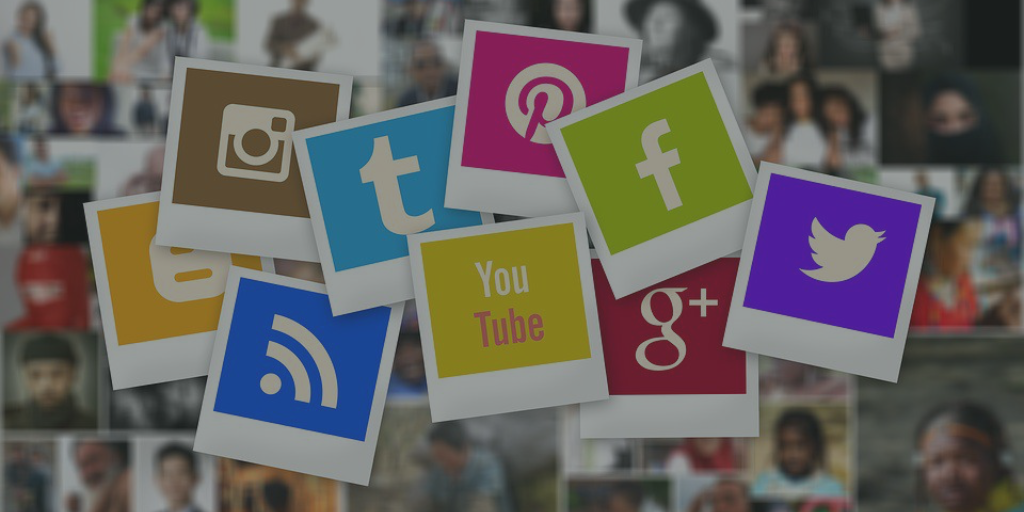 What is UpViral? Only THE Ultimate Viral Marketing System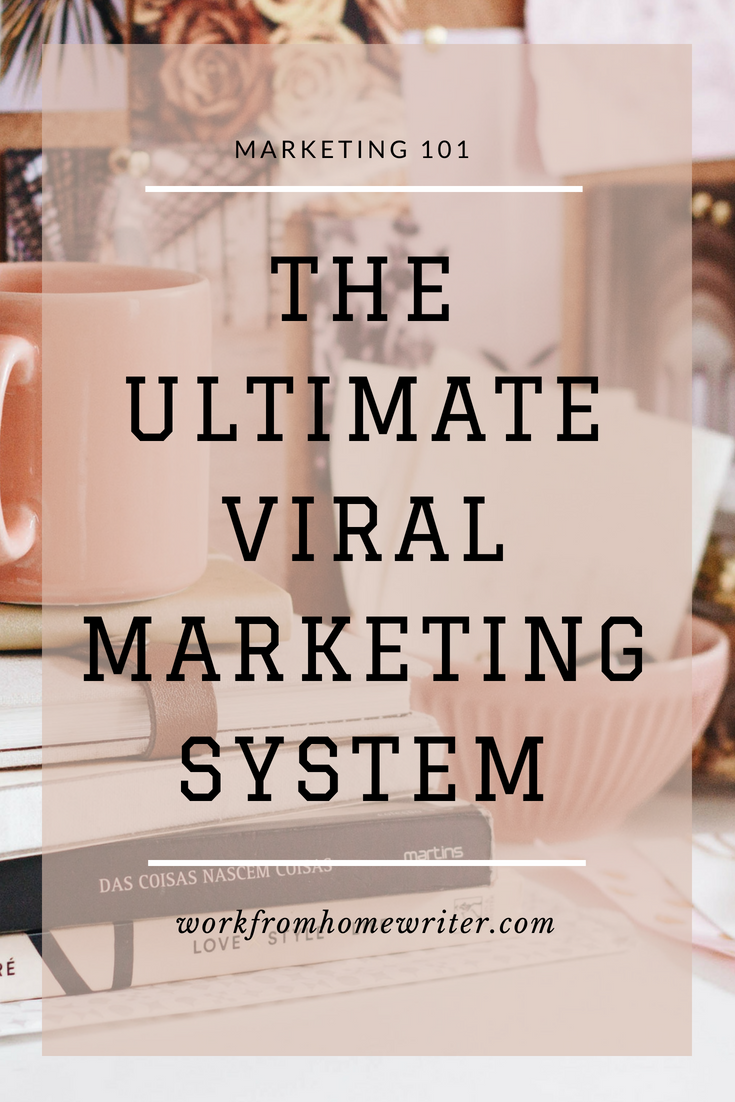 Heard about Viral Marketing? It's an awesome thing if you do it right, and if you do it right, it can generate you thousands of leads in as little as a month…

---
This page contains affiliate or referral links, which means I receive a small commission if you decide to click through and buy anything. This is at no extra cost to you, but helps me maintain this website ? If you want to know more, please read our Affiliate Disclosure.
---
A few weeks ago a certain facebook ad caught my eye. A free webinar on viral marketing and how to generate 16,000 leads in less than 3o days. This is something I needed, as I've been really behind in my email marketing. So this promise, of thousands of leads was very enticing.
Now I knew, that the webinar would probably end in a big sell, of some product they were pushing.
But the information Wilco give out in the webinar Made So Much Sense. and I could see the promise of instant and excellent results.
And I jumped right in, knowing I had 30 days in which I could test out Upviral and get a full refund if it did not meet my expectations.
Now, I'll be right up front with you – I did not generate quite what I was after. But I probably jumped the gun and got on board with viral marketing a bit too early in hindsight. I probably should have had more knowledge in internet marketing and online business before grabbing a tool like this. I was also limited in funds, which makes a big difference when it comes to running a successful sweepstake campaign. And I have no services or products which I can offer yet, which is big when it comes to running a successful viral giveaway campaign.
I almost set myself up for failure.
But, I want to outline why I still think this is an awesome tool for the right person, and why I'll be keeping it on, even though it's initial results were a little lacking…
---
Product Name: UpViral
Owner: Wilco de Kreij
Price: $35 per month (Standard), $49 per month (Pro), or $297 per Year (Pro)
Upsells: Viral Hacking Masterclass $97
Date of Launch: August 8th 2015
Rating: 9/10 – Awesome Product
Official Website: upviral.com
Here's a quick, great intro to UpViral, by the maker himself, Wilco de Kreij:
So, What is Viral Marketing?
The premise of viral marketing is simple. It is Referral Marketing or Promotional Marketing.
You create a post or sales pages that keeps getting reshared, growing your email list and readership by each further reshare. This creates a referral chain.
The key to viral marketing is to provide an awesome giveaway or contest, to promote the sharing of your audience. When the reader reshares, they gain more credits or points int he giveaway or contest, furthering their chance of winning the ultimate prize, or gaining freebies from your site. Obviously, the bigger and better and more relevant the prize or giveaway, the better the campaign will perform.
Wilco de Kreij has built this awesome tool that tackles all the hassle out of building and implementing a viral campaign for you.
What is UpViral? Only The Ultimate Viral Referral System
In a nutshell, Upviral is a program that helps you to successfully build and implement a successful viral campaign.
UpViral is a clean and sleek dashboard app which you use on their website and is extremely easy to navigate and use.
What Does it Do?
Lets you easily run viral contest or sweepstakes campaigns.
Lets you easily run viral giveaway campaigns.
Lets you easily run viral product launches.
All the while quickly building your email or lead list through your chosen autoresponder
In UpViral, you create your campaign, build a lead page, and follow on soca media share page, where readers get their unique sharing link, gather your shareable links, and post them to all the social media outlets you want to target. You can also build a widget to sit on your website, rather than a separate lead page.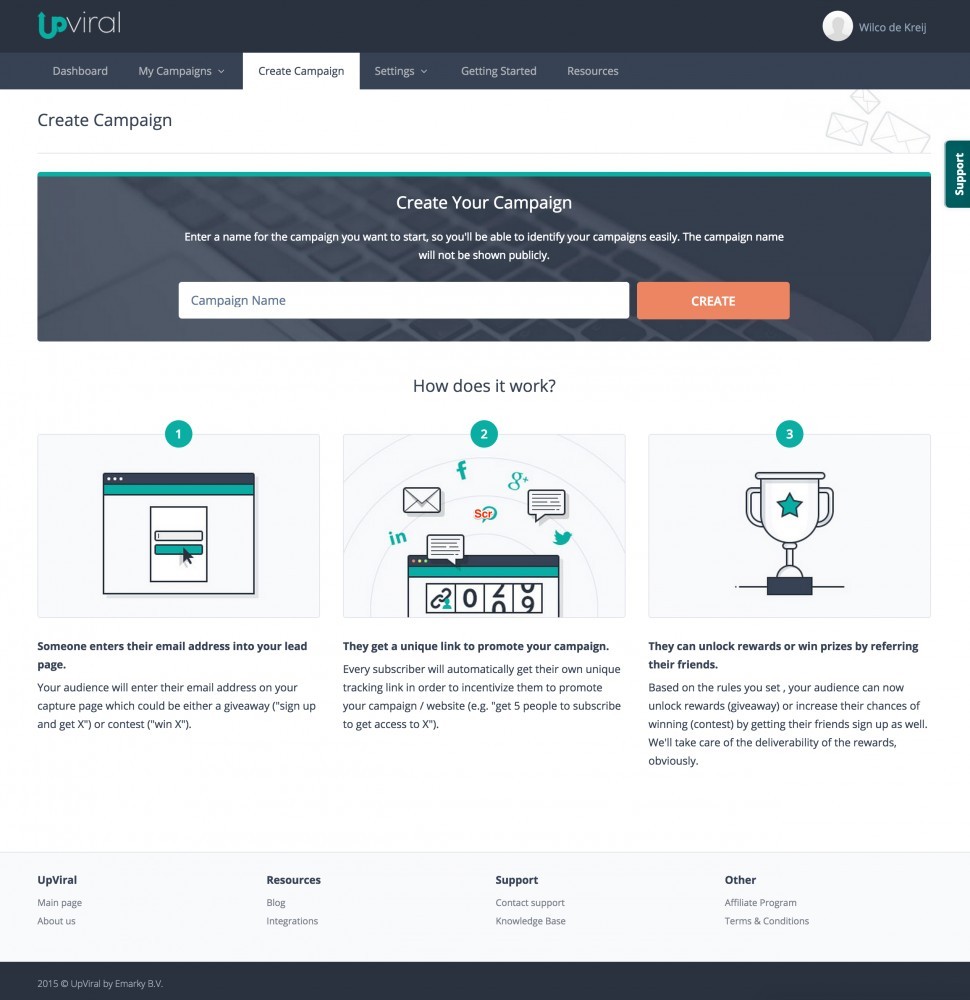 There are 4 steps you need to complete to get your viral campaign set up. They have a handy 30-minute walkthrough in a series of videos, which takes you through the process, step by step.
Step 1. Decide on a Contest/Sweepstake Campaign or a Giveaway Campaign
In a Giveaway, you are offering freebies through sharing on your site.
In a Contest or Sweepstakes, you are offering one or tow prizes to one or two winners. The more readers share, the more points they receive in the draw.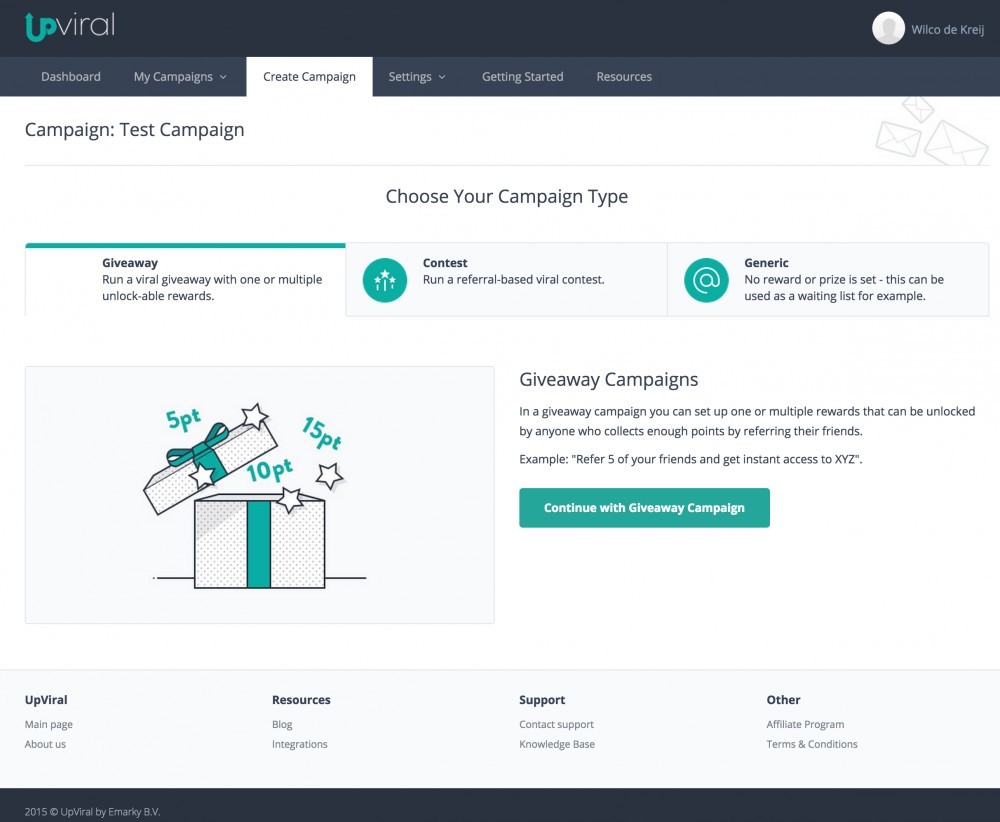 Step 2. First, you decide on the Appearance; your Lead Page or Website Widget. Secondly, you build your Share Social Media Page.
Build your Lead Page in the easy to use Visual Editor.
Build your Sharing Social Page with the easy to use Visual Editor
Create second Lead Pages and Sharing Pages to easily initiate A/B Split Testing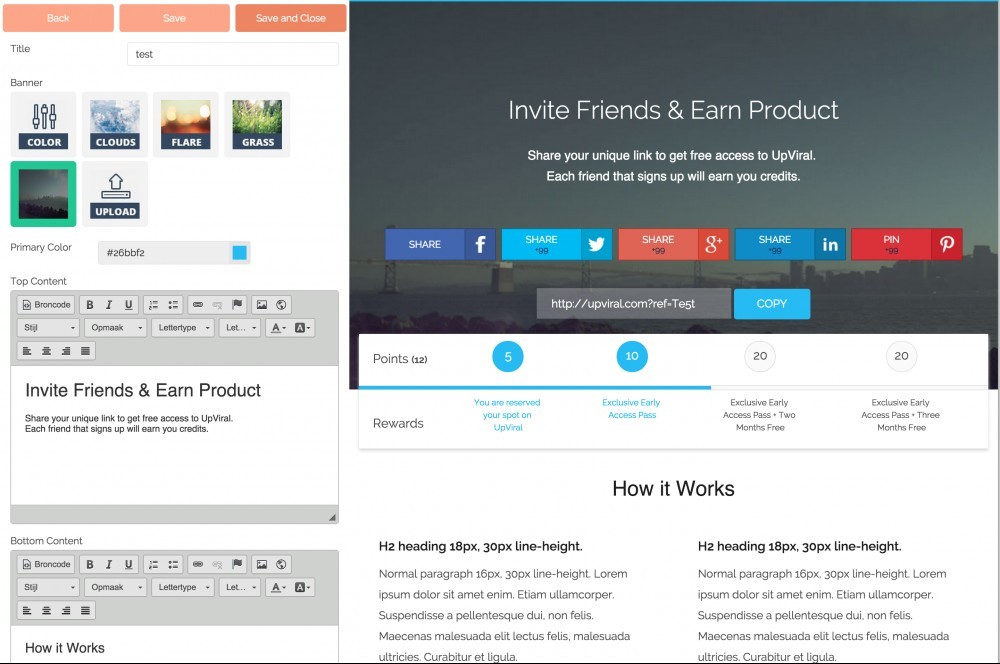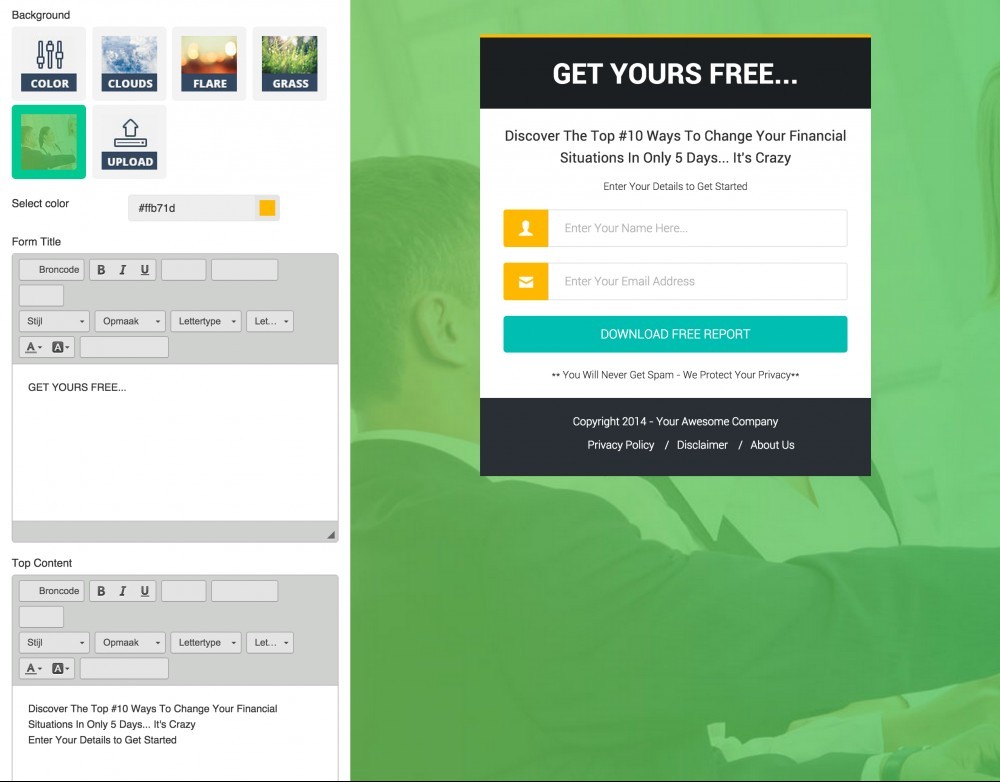 Step 3. Then you set up your rewards, reward points. It may be better to start here – I did 🙂
Decide on your Prize or Giveaway Products, and decide on the rewards points and scoring and winning system.
Step 4. Lastly, you set up your email notification rules, link your email autoresponder, and other advanced settings such as inserting your Giveaway Terms.
Set up Email Notifications for participants, winners and leads etc. You have the choice of using a double opt-in here.
Link your email autoresponder to send your leads to your mailing list. you can suspend this, and important later if you feel the need.
Set the date for the contest to end
Design your Sweepstake Rules – Terms and Conditions.
– Building my first campaign took me longer than 30 minutes, as I had to set up my Aweber Autoresponder first and decide on my prize for my contest –
---
UpViral Pricing
The Standard Package is $35 per month, and includes:
Unlimited Viral Giveaways
Unlimited Viral Contests
Unlimited Email Subscribers
Unlimited Autoresponder Integrations
Email Automation & Notifications
Advanced Fraud Detection
Export CSV
Email Support
The Pro Package, at $49 per month:
This comes with all from the Standard Package but also:
3 Email Identities
Remove Powered By
One-Click Signup/Share Links
A/B Split-Testing
Autoresponder Tagging
Premium Email Support
The key elements here are the A/B Split Testing Options which is a key ingredient in creating a successful and ultimately viral campaign. the one click share links are also very handy 🙂
The $297 per Year option  – Your Best Bet
If you purchase through their webinar or one of their sales, you can get the awesome price of )7 a year, with access to the Viral Hacks Masterclass.
And this is my ultimate recommendation if you are keen on buying a product like this.
Grab the yearly price at $297, which makes it $24.75 per month. Plus you get the Viral Hacks MasterClass for Free!
---
---
 UpViral Free Trial
Now UpViral do not officially offer a free trial  – but they do offer a 30-day money back guarantee if you are not happy with the product.  This means you can try out the product at no risk, for just under 30 days and see for yourself if it fits your business and your experience.
This is exactly why I bought UpViral when I did. And their customer service is Outstanding! In my little test drive – I tested it for 14 days – one campaign – and I requested a cancellation and refund after those 14 days.
Now, I didn't cancel because I don't love the product, because I do. Just that, I believe I jumped the gun a little getting a product like this. As I am on limited funds right now, I wasn't able to offer a really excellent price in my contest, therefore I didn't get quite the results I was after.
Back to the refund – 2 days after my short email requestion a cancellation and refund, the cancellation was completed the funds deposited back into my PayPay account – no questions asked.
This is the best customer service ever. And I am going back to buy again, as soon as I can really justify it 🙂
UpViral Bonuses

There are a couple of bonuses depending on with package you buy.
The first bonus is access to UberOptin which is a plugin for your site – an opt-in form for your email subscribers. I haven't tested this out yet, as I'm quite happy with suing SumoMe at the moment.
The second big bonus is the Viral Hacks Masterclass that you get as a bonus if you take advantage of the yearly package deal ($297).
Personally, I didn't have a thorough look through this classes, which I really should of, haven't due to limited time, I justified my time elsewhere. Wilco promises the info presented in these classes will make your campaigns a success. In hindsight, I probably should have spent the time watching and implementing the tools and information int his Masterclasses…
So, Is it Worth It?
A big Yes! As I mentioned above and again below, I did return the product and get a full refund, but I will be back before the year is out to purchase this tool again.
Pros:
Easily integrations with your current tools and plugins; autoresponders, landing pages, templates
Cloud-based software
Has its own (awesome) affiliate program. this is a high converting product, and commissions are high (50% for the first sale, and 30% thereafter)
Customer Service and Email support is amazing
Had a full refund under 30 days no questions
Cons:
Not for newbie marketers. Better suited to more experienced players
Need to have giveaways already prepared for the Giveaway Campaign
Or need to have an awesome prize for a contest/Sweepstake Campaign
Therefore, you need to have a little expendable cash to get this up and running. I tried on my limited budget and got limited results. Results that I'm happy with, as I can see the scope, but realise that you need to start with great giveaways or a great prize
UpViral Alternatives
There are a couple of alternatives to Upviral out there, including Viper and Gleam. They all have their pros and cons.
Gleam looks very nice, and you can check it out here: Gleam. They do have an individual app for contests and com for only $10 a month, and you can grab their entire suite (of four apps) for $97 dollars. They do not, however, have an affiliate program. They do have a referral program, but this only applies if you have an account and are promoting through them.
Vyper is another viral growth tool though contest, giveaways and content upgrades. Vyper has interactive popups which are appealing, but their lowest end package is $49 per month, and only allows up to 100,000 collected leads. If you're planning on creating a viral campaign, then you should expect to generate more leads than that, and the upper-end packages are just too pricey at first glance, at $129 per month or $299 per month. This may be a good fit for your business, however, so do check them out. My affiliate link is above 🙂
Vyper does have an affiliate program where you can earn 25% commissions on products. You can join their affiliate program without having brought the Vyper product through GrowSumo.
My Final Review; My Personal UpViral Case Study
UpViral asks you if you want to generate an email list of the likes of 16,000 in only 30 days.
A pretty attractive and enticing question right?
It sure had me interested, and I quickly signed up for the free webinar, knowing full well that it would end in trying to sell me a product.
As I was going through the webinar, I knew I liked what I was learning, and what they were softly selling to me. I knew I wanted it, and that it would be worth it. As I'm watching my money, I tried to guess the price tag and told myself that I could only get it if it was under $100.
Well, by the end of the presentation, I was totally sold, and when I found out the asking price, $299. I only hesitated for a moment. It was a bit risky, but then I found out about the guarantee and the returns promise. If I wasn't happy in 30 days, I could get a refund.
Well, that's a no-brainer. Anyone can see what this tool has the potential to do, and I knew I was going to test it out.
My Campaign
After completing my first campaign, and I must say, I am pretty impressed, even though the results are not what I had expected. Because of my lack of funds right now, I chose a very small contest prize (a three kindle book pack), which I know is why my campaign hasn't taken off as it could of.
In the lessons, and in any info found online about viral contest campaign,s is that you need a pretty good prize.
So, I suggest, picking out something pretty decent if you want to test it out in the first month.
I am still happy though; even if I only generate 50 new leads this month, it's much better than what I was generating in the total last 6 months. At the yearly $299 plus maybe $30 a month for a Kindle prize pack, that's pretty good for me.
If you don't have the spare cash for an awesome prize, I'd perhaps wait until you have a decent list to push your campaign to before trying this out.
User Reviews and Testimonials
Here are a couple of testimonials found on the UpViral website, demonstrating the love of the product. I don't want to replicate them here, so I've provided the link 🙂
 Here is a Screenshot of some Stats found by a UpViral User: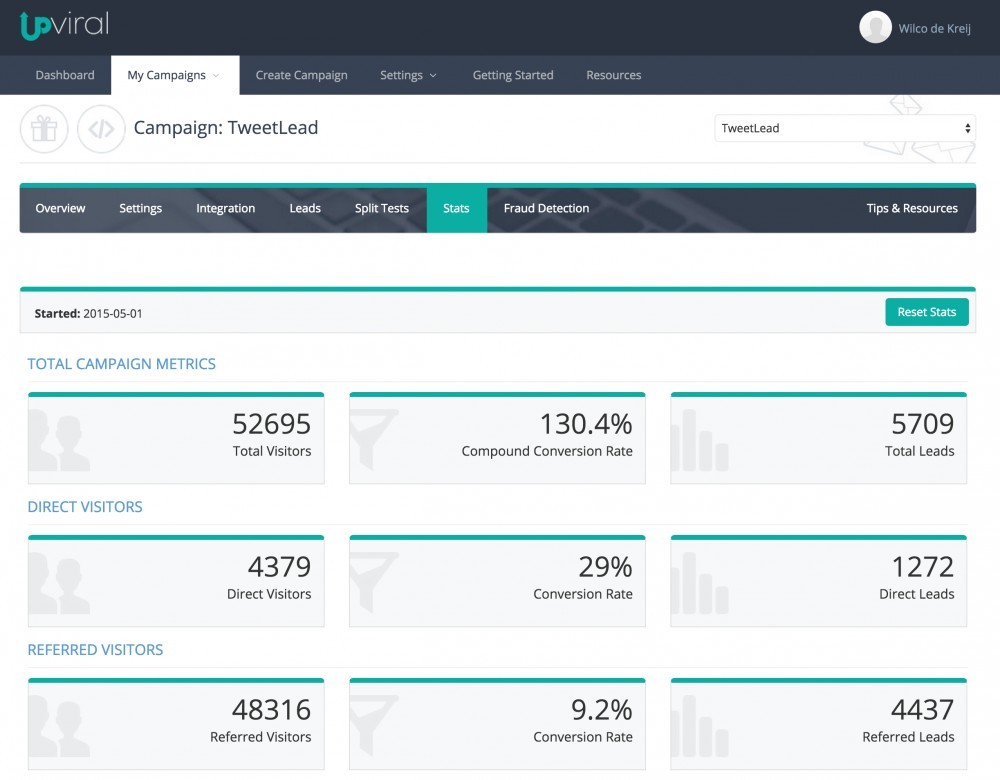 Final Verdict and Rating
This is an excellent product if you know how to implement it correctly. This is a must-buy product, now if you have the resources to pull it off right now, or later, at least. And I have to admit, UpViral is my second favourite product of all time. It really is a must-have for any on or offline business.
My Rating for UpViral: 9 out of 10.
It's pretty much perfect, but everything can always be better, right?
I'd love to hear your feedback on UpViral, or Gleam or Vyper if you've tried them out. Please drop me a comment below and I'll reply as soon as I can:)
Happy Creating!
Erica