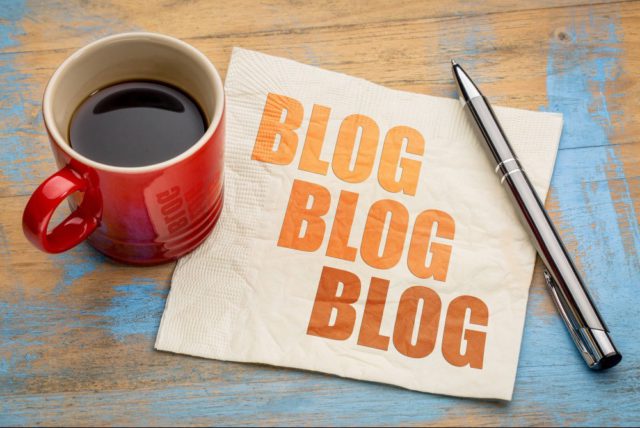 5 Best Laptops for Bloggers: A 2019 Guide
Laptops and bloggers are a match made in heaven. While we love the portability of phones and tablets, they simply aren't conducive for typing long content, and bloggers need keyboards. A laptop is an essential tool for blogging, and integral to the lifestyle. With all the laptops on the market, and all their different features, it can be tough to choose the right one, and disappointing when you invest in a laptop that doesn't meet your needs. So here is a guide to the best laptops for bloggers for late 2018 to early 2019.
---
This page contains affiliate or referral links, which means I receive a small commission if you decide to click through and buy anything. This is at no extra cost to you, but helps me maintain this website ? If you want to know more, please read our Affiliate Disclosure.
---
What to Look For in a Laptop For Blogging
Laptops have a lot of specs and features, and there are a lot of factors to consider. However, not all those specs and features are relevant for your needs. Here are the things to pay attention to.
Affordability
Let's face it, most bloggers aren't wealthy. In fact, most bloggers have chosen to make some financial sacrifices as a fair tradeoff for the freedom, independence, and sheer fun of living and working online. This guide assumes that budget is a key factor, and that bloggers are looking to spend their money wisely and get great value.
Battery Life
One of the advantages of being a blogger is that you can work anywhere, and you never know when inspiration will strike. Bloggers can work from a cafe or coffee shop, on a train or bus, on the beach or in a park… and for that you need powerful, reliable batteries.
Robust connections. Again, if you're going to work anywhere and everywhere, you need a broad range of solid connections. Wi-Fi, Bluetooth, mobile tethering, ports… you need all of it, because you never know when you'll need some of it, and you don't want to carry around a bunch of expensive dongles.
Overall Size and Weight
Bloggers need to make careful considerations about the size of a laptop. While smaller is better for light weight and portability, blogging usually requires a lot of online research, image sorting and editing, and writing at the same time, so having a larger monitor is helpful. Bloggers need to strike a balance between portability and ease of use.
Hard Drive Size
Blogging is definitely light on internal storage, but how light? If you rely on online text editors and writing apps, and don't store images locally, you may be able to get away with very little onboard memory. But if you are creating, editing, using, and referencing your own image and photo library, need online and offline text editors and applications, you may need more. If your laptop is a multi-purpose machine, and you want to keep an entire music library or seasons of your favourite shows, you definitely need a bigger hard drive.
Another option to consider is external storage drives. If you keep all your photos and video on one subject, event, or journey on an external drive, there can be a lot of advantages: your materials are all in one place, clearly labelled, and backed up in the event of that you lose your laptop. You don't need to sacrifice large amounts of onboard storage for the few times you need to use or access those files, and external storage drives are much less expensive than a laptop with a large hard drive.
Consider how much onboard storage you are using right now, and how much you really need. Take advantage of cloud-based backup services (you should be using those anyway), and you can save some money on your laptop.
Keyboard
Of course, larger laptops have larger keyboards, which can be more comfortable to use over extended writing sessions, and perhaps even ergonomically safer in the long run, helping to prevent repetitive stress injuries. Bloggers tend to prefer backlit keyboards for easier typing in all kinds of lighting conditions.
It's also true that the sound and feel of a keyboard can be incredibly important for someone who is typing all the time. However, keyboards are also highly subjective; what feels good to one person may not feel right to another. It's worth going to an electronics store and sampling several keyboards just to get the sense of what you are looking for in a keyboard.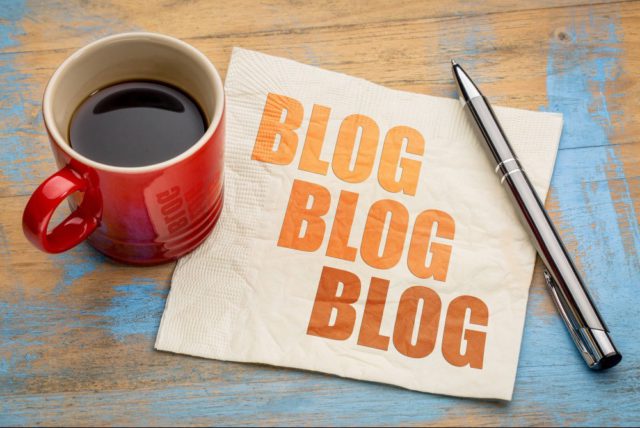 Windows vs. Mac? 
While the Chrome OS is promising, it's not yet a great choice for bloggers. The app selection is good, but not comprehensive, and offline functionality is noticeably limited. Which brings us to the age-old Mac vs. PC operating system question. While this is a subject that has been discussed to death for years, the answer is that there is no single better operating system for bloggers. Ultimately:
What we love about the Mac OS
It's extremely reliable
It comes with all the tools and functionality a blogger needs to work intuitively
Less prone to viruses
Sheer style
What we don't love
What we love about the Windows OS
It's affordable
It's more versatile, with a broader range of apps and tools to do more things
What we don't love
It's less reliable
Not as attractive
Note: Many of these laptops come with Windows 10 Home edition. While there are great reasons to use the Windows operating system, this particular version is notoriously unreliable, has oblique privacy guidelines and settings, and default data collection that many people object to, mandatory (and not always necessary) updates that frequently reset your settings and applications, no access to boot in Safe Mode, and hogs bandwidth. If you must use Windows 10, try to find a way to use Windows 10 Enterprise.
What Kind of Processor Do You Need? 
A lot of bloggers don't pay much attention to their processor, but it's worth paying attention to. High-performance processors are great for memory-intensive applications, like games, 3D graphics, and complex video production processes, but they also use a lot of battery life.
While nobody wants a slow computer, it's better to choose a processor that is fast enough for your needs, but doesn't use up all that battery power. For most bloggers, an Intel Core i5 U series or an AMD Ryzen Mobile 5 provide a great compromise between performance and battery life.
What's Not Worth Paying For?
Believe it or not, there are a lot of laptop features that cost extra, but aren't worth the investment for a blogger. While laptop manufacturers are right to brag about these things, it's not worth an additional cost.
Extra RAM
Unless a blogger is doing pretty intensive image editing, or video editing, more RAM really won't make a noticeable difference in laptop performance. Most laptops come with 8-16GB, and that is more than sufficient.
Touch screen
While touch screens are fun, there's no reason to pay extra for one. Laptops with the dual-monitor feature, where you can use it as a tablet or as a laptop, are fun and exciting, but not necessary. In fact, it's easier and more versatile to get a handwriting recognition app for your phone or tablet, so you can use those devices more easily as quick notepads.
High-end graphics card
While it's great for a blogger to have a laptop with a high-quality monitor, so that they can better work with images, and work better in more locations and lighting conditions, a high-end graphics card really isn't going to add a measurable improvement to your experience as a blogger.
Best Laptops for Bloggers: Reviews
Keeping these considerations in mind, here are the best laptops for bloggers today.
The 13 inch Apple MacBook Air is a classic for bloggers. It's streamlined, lightweight, and just plain sexy to travel and work with. It's also a low-maintenance machine; it comes with everything you need, and requires minimal setup, updates, and maintenance. The Apple MacBook Air is a great laptop for a blogger.
Key Features
Weighs less than 3 pounds
13.3-inch widescreen display
Intel Dual i5 Core Processor with Turbo Boost
128GB hard drive
Intel HD Graphics 6000
Fast SSD storage
Up to 12 hours online battery life
Backlit keyboard
8GB RAM
Two USB 3 ports
Thunderbolt 2 port
SDXC port
Differentiator
The Apple MacBook Air 13 Inch is specifically known for being lightweight and portable, having a fantastic battery life, with a great display, comfortable keyboard, and intuitive trackpad. It's ideal for bloggers who travel a lot and need a laptop that takes up minimal space and weight.
Pros
Small, slim, and light weight make it easy to take anywhere.
Excellent display for detail and colour, in most lighting conditions
Backlit keyboard
Excellent battery life
Reliable performance
SDXC port is great for fast, secure compatibility with cameras and mobile devices
Cons
Much more expensive than non-Apple laptops with the same hardware specs
Thunderbolt ports often require dongles and adaptors to connect to other devices
Verdict 
If your blogging lifestyle includes travel on foot, by bike, or by air, and you need a laptop that takes up almost no space in a bag, suitcase, or backpack, you will love the sleek style of the MacBook Air. There is simply no alternative for portability and battery life if you can afford it.
The Acer Swift 5 14 inch Laptop is a versatile, compact laptop for a blogger. The slim profile gives it a sleek look and a light weight, and it's built for speed, online and offline.
Key Features
Weighs less than 3 pounds
Only .6 inches thick
14-inch widescreen display with 1920 x 1080 resolution
Acer BlueLightShield can reduce eye strain over prolonged use
Intel Core i7 processor
Windows 10 Home OS
256GB SSD hard drive
8GB RAM
Up to 13 hours battery life
SD card reader
Acer Fingerprint reader
Bluetooth 4.0
1 USB-C port
2 USB 3.0 ports
1 HDMI out port
Built in HDR webcam and microphone
Backlit keyboard
Differentiator
The built-in fingerprint reader works with Windows Hello to seamlessly log you into your accounts and prevents unauthorized access to your laptop. The built-in webcam, speakers, and microphone are certified compliant with Skype for Business, for the best-quality communication no matter where you are. Windows 10 devices now have automatic battery saving features, to get even more productivity from every charge.
Pros
Extremely slender, light, and portable
Attractive design with a body designed to stay cool to the touch
Excellent battery life
Backlit keyboard
Lots of ports and options for charging, connecting, and using all your other devices
Fingerprint reader provides additional security
Cons
Windows 10 isn't a great operating system, and Windows 10 Home is worse. You will probably want to upgrade
Slender profile can reduce the durability of the monitor, so it needs to be handled carefully
Verdict 
The Acer Swift 5 14 inch Laptop is a great laptop with a lot of nice features optimized for business and professional travel. It has a sleek look while still having all the ports and connectivity to other devices that you need. Plan to upgrade the operating system and treat it a little bit gently.
The Microsoft Surface Laptop combines the sleek style of a laptop with the convenience of a touchscreen. With the addition of the Surface Dial or Surface Pen (sold separately), you can interact with this laptop in unique and innovative ways that allow greater room for creativity, expression, or speed while you work.
Key Features
Weighs under 3 pounds
13.5-inch touchscreen display
Intel Core i7 Processor
8GB RAM
256GB SSD hard drive
Omnisonic speakers with Dolby Audio Premium sound
Alcantara fabric-covered keyboard
3.5mm headset jack
Up to 14.5 hours of battery life
Available in a choice of colours
1 USB 3.0 port
Windows 10 S operating system
Differentiators
The Microsoft Surface Laptop is an innovative device that combines the power and versatility of a laptop with a touchscreen device. Optional accessories provide powerful and interesting new ways to interact with your laptop and discover exciting new avenues for personal expression.
Pros
Slender and lightweight
Variety of colour options
Fabric-covered keyboard has a luxurious feel
Great battery life
Cons
Windows 10 isn't a great operating system, so you will need an upgrade
This is the 1st Gen Surface, so it isn't as stable as later generations
Trackpad can be inconsistent
Only one port
Verdict 
The Microsoft Surface Laptop is an exciting new style of laptop. The laptop is attractive, durable, and comes in a choice of stylish colours. It's also slender and lightweight, and the touchscreen is great for bloggers who want to use the Surface Pen to take handwritten notes or doodle right on their laptop. An upgrade to Windows 10 Pro appears to be available for free, which is a great option for providing more stability and reliability in the device.
HP Pavilion Laptops have been consistent performers for decades, and the new 15.6 flagship is no exception. It has a sleek design without sacrificing any of the ports you need, and the generous monitor size is great for multi-tasking, and also provides a more ergonomic typing experience for bloggers.
Key Features
Weighs 4.67 pounds
15.6 inch BrightView 1920×1080 display
Intel Quad Core i7 processor with TurboBoost
8GB RAM
Multi-format digital card reader
Backlit keyboard with 10-key keypad
256GB SSD hard drive
2 USB 3.1 ports
1 USB 2.0 port
1 USB Type C port
HDMI port
Headphone/microphone combo jack
Wide Vision HD webcam
Windows 10 Home OS
Bluetooth 4.0
Battery life up to 8 hours
Differentiators
The HP Pavilion 15.6 Inch Flagship Notebook Laptop trades off some lightness and portability for a larger screen size and a generous array of ports. The larger monitor allows easy multi-tasking, and remote workers who do a lot of numeric data entry will love the 10-key pad on the keyboard.
The larger keyboard is also great for extended comfort while typing, allowing for a more ergonomic hand position. The ability to connect this laptop to multiple external devices and drives makes it ideal for people with multiple workstations, since you can drop it into any desk environment and be quickly connected to all your external devices.
Pros
Good monitor size and resolution for multi-tasking
Good keyboard size for comfort
10-key pad
Cons
Less battery life than other laptops on this list
Comes with Windows 10 Home edition again, so plan for an upgrade
Verdict 
The 2018 HP Pavilion 15.6 Inch Flagship Notebook Laptop Computer is designed more for travelling business and office workers than bloggers, with the robust number of ports, 10-key pad, and larger size and weight than more portable options.
However, this larger size also makes it easier to type with, multi-task with, and use in a variety of situations than a more compact laptop. The shorter battery life may also be an issue for the truly portable blogger, but it's a great all-around laptop.
The HP High Performance 15.6 Inch Laptop has a touchscreen, a DVD RW drive, and a massive amount of onboard memory for a very affordable price. This would be a great option for a travel blogger who captures, processes, and stores a lot of images, and needs the big monitor and big hard drive space to accommodate them. You could even create your own image archives on DVD for secure long-term storage.
Key Features
15.6 inch 1366 x 768 resolution touchscreen display
Intel Quad Core i5 processor
Weighs 4.5 pounds
Typical battery life of 7 hours 45 minutes
8GB Ram
128GB SSD and 2TB HDD hard drive space
2 USB 3.1 ports
1 USB 2.0 port
1 HDMI port
1 RJ-45 port
1 headphone/microphone combo jack
Media card reader
DVD + RW optical drive
Backlit keyboard
10-key keypad
Built-in webcam with microphone
Windows 10 Home OS
Bluetooth 4.0
Differentiators
The HP High Performance 15.6 inch HD Touchscreen Backlit Keyboard Laptop is a bit of a retro device. It's rare to find DVD RW drives any more, and it isn't as stylish as some of the laptops on this list. However, it has a massive hard drive, a great number of ports, and the larger size can make long working sessions more comfortable and streamlined.
Pros
Enormous hard drive storage space
DVD RW drive
Great number of ports and connectivity options
Touchscreen
Backlit keyboard with 10 key pad for prolonged comfort and ease of typing and data entry
Affordable
Cons
Shortest battery life of any of the laptops here
Windows 10 Home is not a good operating system, and you will need to upgrade
Not as stylish as some laptops
Verdict 
The HP High Performance 15.6 inch HD Touchscreen Backlit Keyboard Laptop is slightly bigger and heavier than other more portable machines. It's not very slim or stylish, and has a bit of a retro look. However, many people still find DVD drives important, and the massive hard drive space on this laptop make it easy to keep all your media essentials with you everywhere.
The generous number and versatility of ports allows you to connect with almost anything, anywhere, charging devices, reading media cards, while using external monitors and Bluetooth speakers. It's a professional laptop, and is offered at a reasonable price. Once again, it comes with Windows 10 Home, so plan to upgrade the operating system.
Conclusion
As a blogger, it is imperative to go through the best laptops for bloggers so that you can choose one which will live up to your demands.
All the blogging laptops discussed here are excellent choices and get the job done, but if we had to choose one, it would be the HP High Performance 15.6 inch HD Touchscreen.
For the price, you get a laptop that is great to look at, has a touchscreen display, and high-quality trackpad, plus several other features that you would expect to find in laptops over $1,000.
As we said, any of these laptops will serve you well, whether you're a part-time or full-time blogger.
I would love to hear experience with any of these laptops, or what you use for blogging – leave a comment below, and I'll get back to you as soon as I can.
Happy Writing!
Erica
---
Are you struggling with blogging, or are just starting out? If you are looking for a community and support network to help you grow and build your blog, then I recommend the place where I learnt (and am still learning). I've built a successful creative writing blog from this training and supportive community.
There is a FREE  Starter Membership and you never have to give any payment details, ever, if you don't want to. The Starter Membership lets you see what the training and community is all about, and even gives you 2 Free Websites that you can keep for as long as you want.
Plus, if you join through one of my links, I'll also be your Personal Mentor inside 🙂 Join HERE – or check out my review: Wealthy Affiliate Review.